This one had me stumped for a while…
A Pro Sony HD422 camcorder was purchased by one of our newspaper titles for interviews, shoots etc – problem was no one knew how to export the proprietary MXF format videos the camcorder records to a format that's compatible with Final Cut Pro as nobody on site had any pro video camera experience…
I'm sure a lot of first time videographers have had trouble with this particular camera so here's the absolute minimum requirements you need to get those MXF files into Final Cut Pro for editing:
I went with FCP 6 (updated to 6.0.6) as we already had a licensed copy of it available, I just wasn't sure if FCP 6 could handle wrapping the MXF files as MOV until I found the FCP 6.0.3 release notes
The prerequisites are:
1. Final Cut Pro 6.0.6 (FCP6 is available as part of Final Cut Studio 2.0 once that's installed an update using Apple software takes FCP up to 6.0.6)
or Final Cut Pro 7 (Install all latest updates available)
2. XDCAM Transfer 2.16. Available from the Sony website (PDZK-P1_XDCAM_Transfer_v2_13_0.zip)
The Final Cut Pro update from 6.0 to 6.0.6 installs the codecs necessary for XDCAM Transfer to read the XDCAM/HD266/MXF files the Sony HD422 creates. Once the codecs are installed XDCAM Transfer can wrap the MXF files as MOV for Final Cut Pro to read and edit if you so wish. At that point you can then export to whatever video format you want.
Once the above has been installed launch XDCAM Transfer and open up the MXF files stored on your SXS card or stored locally on your Mac and click on the "Import" button down the bottom right side of the app.
From there browse to "\Users\<username\Movies\Sony XDCAM Transfer" and you'll find sub-folders containing the MOV wrapped MXF files which can then be opened in FCP.
The only caveat we have here is that FCP6 will not install on OSX 10.8 but you'll be fine on 10.6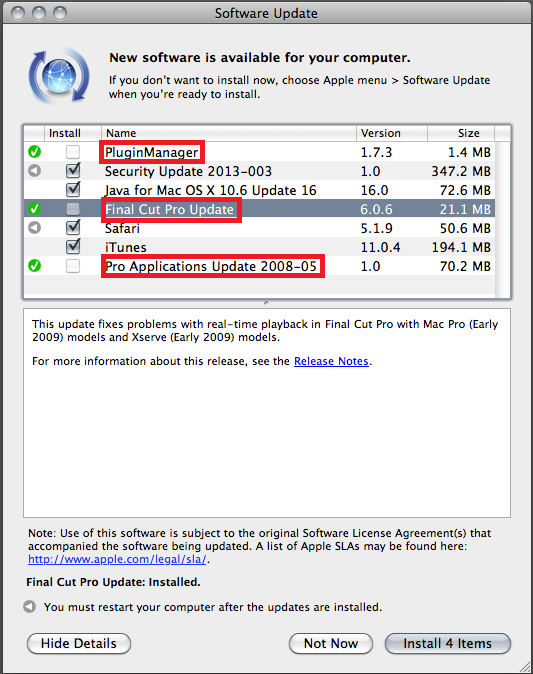 Hardware
,
Troubleshooting